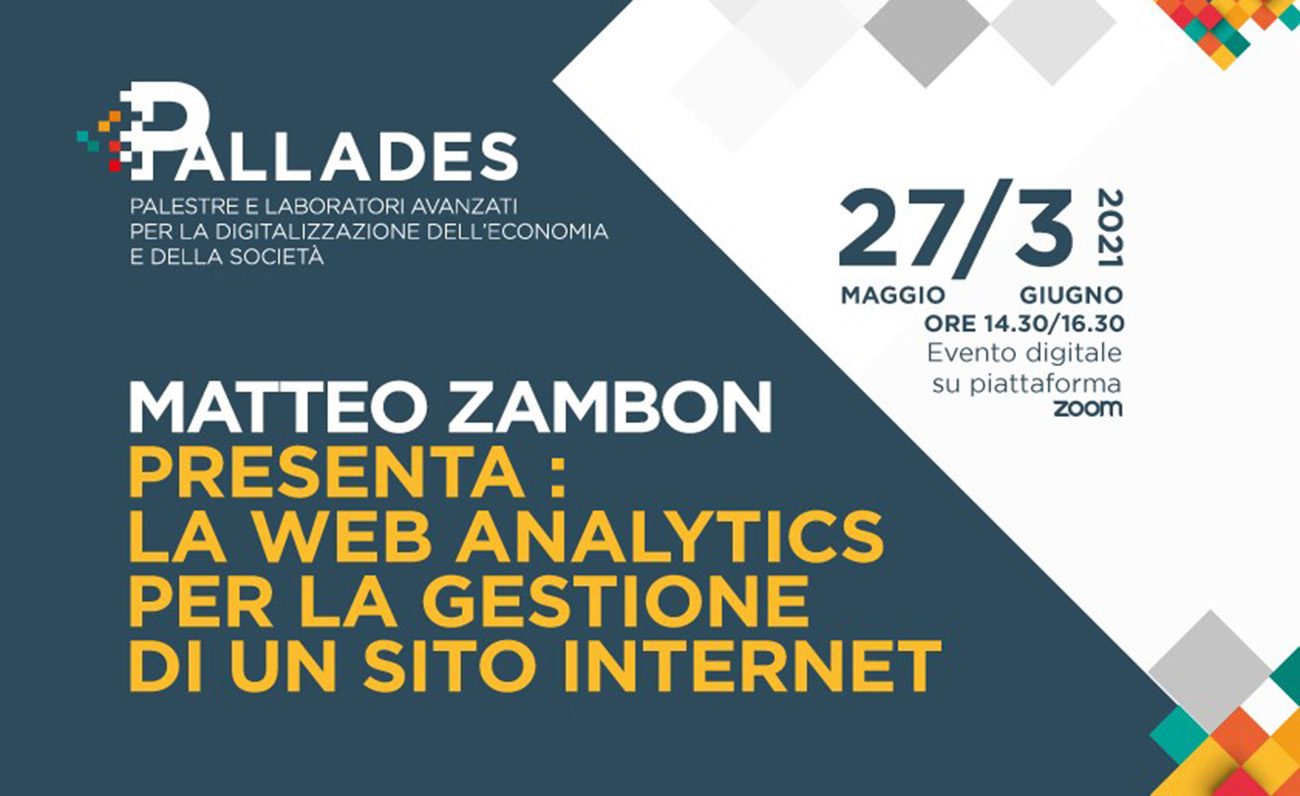 Giovedì 27 MAGGIO e Giovedì 3 GIUGNO
ore 14:30/16:30

Tutte le Aziende hanno un sito web o un e-commerce.
Molte di loro investono in campagne su Facebook, Google, etc. per ottenere nuovi clienti. Ma sono pochissime le Aziende in grado di individuare quali sono gli ostacoli nel processo di acquisto dei loro clienti. Oppure che sanno distinguere quali tra le loro campagne online sono profittevoli e quali no.
Il segreto è sapere quali dati cercare, dove trovarli e come interpretarli correttamente.
L'evento è diviso in due pomeriggi di alta formazione, tutta pratica e (quasi) zero teoria per chi gestisce un sito Internet e vuole renderlo profittevole basandosi più sui dati e meno sulle opinioni o sulle mode del momento.
Matteo Zambon, esperto internazionale di digital analytics, ci spiega passo per passo come fare.

RELATORE
Matteo Zambon: Fondatore del centro di competenza "Tag Manager Italia" (scelto da oltre 2200 professionisti del web) e autore di 'Google Tag Manager per chi inizia' e 'Google Tag Manager for Beginners', esperto di livello internazionale in materia di digital analytics. Dopo aver dedicato i primi anni della sua carriera allo sviluppo di applicazioni per il web, Matteo si è occupato di digital marketing per poi specializzarsi nella digital analytics. Opera come consulente, formatore, docente e speaker in eventi di settore in Italia e all'estero. Ha realizzato strategie di digital analytics per aziende e brand come Banca Ifis, Esprinet, OVS, Telethon, Collistar, e molti altri.

A CHI SI RIVOLGE
L'evento digitale si rivolge a Piccole e Medie Imprese, Business to Consumer e Business to Business ed a chiunque sia interessato a migliorare il proprio sito Internet.
Ricordiamo che la partecipazione, in modalità online su piattaforma Zoom, è libera e gratuita previa iscrizione.
Vi aspettiamo!